125 Implant Seeds 125I Model STM1251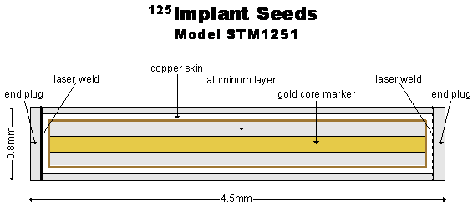 Distributed by: Bard Urological , Covington, GA,
Customer Service:
(800) 526-4455
• S. Kirov, J. Williamson, "Monte Carlo-aided dosimetry of the Source Tech Medical Model STM1251 I-125 interstitial brachytherapy source," Med. Phys. 28: 764-772, 2001.
• Z. Li, J. Williamson, "Measured transvers-axis dosimetric parameters of the model STM1251 125I interstitial source.," Journal of Applied Clinical Medical Physics, 3: 212-217, 2002.
• Sou-Tung Chiu-Tsao, Tamara L. Duckworth, Chih-Yun Hsiung, Zuofeng Li, Jeffrey Williamson, Neil S. Patel, and Louis B. Harrison, "Thermoluminescent Dosimetry of the SourceTech Medical Model STM1251 125I Seed," Med. Phys. 30: 1732-1735, 2003 .
added to Registry, May 6, 2003